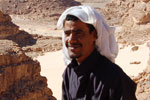 Salah Abu Musa is from the Ghawanma clan of the Muzeina tribe. Originally from Wadi Saal, he moved to Dahab as a young teenager. This has allowed him to learn to speak English and deal with tourists from all over the world. He has been guiding travelers through the desert with his father, uncle and brothers his whole life. The desert is not only his home but also a passion. His friends and family have nick named him 'El Baah' which in Bedouin dialect means 'The deep', a reflection of his incredibly open mind, brightness and the respect he has acquired as a person. Salah is considered one of the best guides in South Sinai beyond a shadow of a doubt.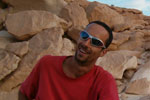 Maruan El-Touni: I am Egyptian and English. I have been coming to Sinai since 1982. About 10 years ago (2001), my good friend Salah Abu Musa, and his family asked me to try and help them find guests to experience their desert safaris. I told them that I was already a desert lover and would have to see what was so special about their safaris. I had been many times to the desert and to the famous locations mentioned in guide books and still visited daily by most safari operators. I went with Salah for 3 days to the desert ...I have been working for him since. I have gained a lot of experience these last 10 years, however I act merely as a translator (French-Italian) when I guide or when I write for this website communicating what Salah and his family would like to express. They are your true hosts, they are Sinai Safari.

With so many operators offering desert safaris, it is hard to distinguish the real desert experts from those who claim to be. Although the Sinai's beauty is bound to impress, the quality of your general experience is enhanced by excellent organisers and guides. We truly believe that having grown up in the desert and been guiding since a young age, our Bedouin guides are second to none. This gives us the confidence to allow our guests to pay for 75% of their safari at the end of the trip. We are also prepared to go into a 3 way discussion with our guests and any other competitor. Here are some of the few factors that make Sinai Safari unique:
1- ECOLOGY
-Total respect for the physical environment. No littering, no burying or burning waste, no scratching names into rocks or canyon walls. We leave the desert's wonders as we found them. -Total respect for the social environment. Sinai Safari is Bedouin owned and employs Bedouin only, allowing the local population to retain their traditional work.
-Total respect for the cultural environment. When you chose Sinai Safari, you are helping to preserve Bedouin culture and heritage.
2- LOCAL
We are local and therefore permanently up to date concerning weather, rainfall, heavily visited or degraded areas, new information, cultural events and any other factor that may affect the quality or program of the safari. For example, after rainfall, some areas are blooming with plants and worth the visit. Similarly, our guests may have the privilege of sleeping in our own homes if there is ever the rare blessing of heavy rainfall.
3- SPECIALISTS
Sinai Safari only offers desert tours in the Sinai, not in the other deserts of Egypt, Jordan or any other country. We believe that in other deserts, local guides will be more competent and appropriate for the same reasons that we are in the Sinai. We do not seek commission or income from accommodation, transfers, scuba diving, quad biking, horse riding, free diving, wind surfing or any non Sinai desert related activities. We may assist our guests in accessing these services, however this is free of charge.
4- GUARANTEES

Sinai Safari is Bedouin, therefore your payment goes straight to the Bedouin. The authenticity and quality of the service you receive becomes evident. Our guests may pay or talk about payment with any member of our organisation. Since we operate in a fair way, nobody is making an excessive profit at the expense of the others, all proceeds are fairly distributed. Our guests can pay 75% per cent of their safari once they have been returned to their accommodation or destination of choice.
5- ETHICS
Sinai Safari would like you to enjoy your visit in the Sinai and leave with the best memories, this comes before profit or anything else. Our priorities are to provide the highest standard of service to our guests and respecting the desert's ecology.
6- TAILOR MADE SERVICE
Our initial offers are private, however, our guests may specify if they would prefer to join or be joined by other guests. When we combine guests in order to form a group, it does not exceed 8 people. Our itineraries are different from the common ones, in areas that no other operators know about, thus still intact and with minimal human impact. We are also happy to guide our guests to the more famous locations in the desert. In every case our safaris are made to suit the needs of our guests and our flexibility makes every safari different from the next. The areas to visit are are unlimited. If it is physically possible we can take you there, from the mountains surrounding coastal resorts such as Dahab (ideal for day trips and budget trekkers) to the most inaccessible areas. Our guides take you anywhere in the Sinai from 1 day up to 14 days, by camel, car or simply hiking. Feel free to
contact us
for any further information or to enquire about prices which vary according to the number of days and people interested. You may be interested in joining one of our camel or trekking safaris described in the 'our safaris' page.